Helix Mattress Overview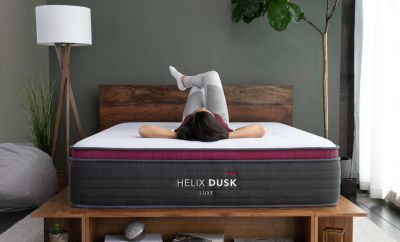 Helix is a New York based company specializing in all things mattresses, bedding, and now even modular furniture. They offer a huge variety of hybrid, boxed mattresses (15+ in fact!) for all kinds of sleepers. With a standard line, as well as a LUXE line, no matter the kind of bed you like there is a good chance that Helix has you covered. To figure out which kind of bed is right for you the company also offers a helpful Sleep Quiz.
The standard models by Helix feature 4 layers of material and come in at 12 inches thick. LUXE models have 2 extra layers and 2 extra inches of material. All of Helix's mattresses are hybrid innerspring-memory foam, though the construction varies a bit between the specific models.
Our favorite of the bunch was the Helix Midnight LUXE, one of the company's best sellers. But what we found most impressive about the company is that with such a wide variety of products, there seems to be an option perfect for every sleeper!
Helix Highlights
100-Night Sleep Trial
Individualized comfort with Helix Color Match
10-Year Warranty
Helix Highlights
100-night sleep trial
10-year warranty
Free shipping in the US
Sleep Quiz for perfect match
Great temperature neutrality
Mattress Breakdown
Odor:
Excellent
All Helix beds are made with elements of memory foam and other materials which come compressed on delivery. These are typically the culprits that cause smelly off-gassing when it comes to beds shipped in boxes. But the Midnight LUXE, even with extra layers of foam, had virtually no off gassing smell at all.
Durability:
Good
While there is certainly a range in the construction and materials used in all of Helix's mattresses, we feel confident that each should last the standard 7-year lifespan of a typical hybrid mattress. It's possible that the LUXE options could last longer, and also worth noting that Helix offers a 10-15 year warranty on all of its models. The LUXE models are among the higher-quality boxed mattresses available today.
Temperature:
Great
The combination of 1000+ steel coils, ultra-breathable foams, and cotton covers make the Helix mattresses among the most cooling on the market, especially for hybrid models. There is a range in their products, but we found that the Midnight LUXE offered the best cooling effect. All of Helix's mattresses should give the hot sleeper the cooling effects they need, but if you sleep very hot, we recommend the LUXE line of mattresses.
Sex:
Good
Hybrid beds give you the spring you need with the plush feeling you want. Since there are so many options within Helix's range of mattresses, there is almost certainly an option that matches your preferences when it comes to the ideal bedding surface for sex. The Midnight LUXE was a bit more on the plush side, though there are tons of firmer options if you are so inclined.
Conforming:
Great
There is no doubt at least one mattress option in Helix's line up will match your conforming needs perfectly. Since they are all hybrid models, there is great support underlying each bed—but the cushioning and give can be customized based on your sleep style, weight, and preference. We liked the plushness of the Midlight LUXE, which cradled our bodies like babies sleeping on a cloud!
Edge Support:
Average
Helix's beds offer edge support that is pretty much in line with the average hybrid/foam mattress. Some of their beds are a bit firmer overall, which improves the edge support slightly. In general, these mattresses are neither the best nor the worst when it comes to perimeter support.
Noise:
Great
The Helix mattresses are very quiet, despite having 1000+ individual coils. This could be due to the high-quality foam they use to encase the springs, which seems to offer some blockage of the noise. If you are especially sensitive to this issue, we recommend going with one of the models from the LUXE line, which all come with 2 extra layers of foam. We found that the Midnight LUXE model was virtually silent.
Motion Isolation:
Excellent
Hybrid mattresses usually offer only slightly better motion isolation than innerspring models, but this is not the case with Helix. All of the models offer superb motion isolation, closer to what you might find in a very plush, full memory foam bed. We were especially impressed with the LUXE line—with three layers of foam included it was almost impossible to tell when someone was getting in or out of the bed. This is a great option for couples who toss and turn.
Options to fit all different sleep types
Both lower-cost and luxury models
Convenience of bed-in-a-box
Heavy/tough to move

Average edge support
How does the Helix mattress feel?
With 15+ models of mattresses, there is a huge range in the firmness options available to Helix customers. No matter your preferred feel and support level, they make a bed that will suit you well. We recommend taking their Sleep Test to see where you fit in.
In general, the hybrid nature of all Helix mattresses means the beds have a strong underpinning of support that makes it easy to change positions, and offers decent relief on joints and the back. With the LUXE models, extra layers of memory foam and a luxury topper add more conforming materials making it one of the best side sleepers types or anyone who wants a more cradled sleeping experience.
The mattresses range from a 2 out of 10 on the firmness scale all the way up to a 7 or 8. The Midnight LUXE model is about a 5 or 6 firmness. The Midnight model (non-LUXE) is more like a 4.
Construction
Quilted pillow top cover
Gel Visco memory foam
Memory Plus Foam
Helix Dynamic Foam (latex-foam hybrid)
Individually-pocketed support coils
High-density (DuraDense) polyfoam base
Helix Service and Delivery
Helix offers strong customer support for anything you might need. They have an A+ rating from the BBB, and an 89% favorability rating from customers.
All of their mattresses come with a 10 to 15 year warranty depending on the model, as well as a 100 night risk free trial period. Beds come delivered in a box, right to your door. They are easy to open and install, and generally take only a few hours to expand to their full size. For an added fee you can arrange for Helix to take away your old mattress at the time your new one is delivered.
Typically it takes about 6 to 10 business days for your Helix Mattress to be delivered.
Is This Mattress for Me?
We feel confident that there is definitely a perfect Helix mattress out there for you! No matter how you like to sleep, or what your budget is, Helix has you covered. What's so cool about their company is that they really seem to do it all. Check out their new line of customizable furniture here.
For back sleepers and stomach sleepers, there are firmer options that offer great support and make the most of the innerspring technology. For side sleepers, there are more giving, plush models that offer great contouring and joint support. And for all those somewhere in the middle, there are options that combine technologies suited for combination sleepers. Did we already mention that Helix has a fantastic Sleep Quiz to help you choose which one is right for you?
Out of all of their offerings, we love their best-selling Midnight LUXE model. It is both supportive and comfortable, with easy installation and a price point that seems too good to be true given the quality of the product. This is a great mattress for those who generally sleep on their side, or couples who are concerned about motion isolation.
We Recommend This If You:
Like the comfort of a memory foam bed, with the support of an innerspring bed
Are not sure what type of sleeper you are
Have a partner with a different sleeping style than you
Want a seamless delivery and set-up experience
Want to try a mattress for a while before you decide to commit to it
Tend to sleep hot and want a cooling experience
Helix Midnight Luxe Specs
SIZE
DIMENSIONS
PRICES
Twin
38'' W x 75'' L x 14'' H
$995
Twin XL
38'' W x 80'' L x 14'' H
$1,249
Full
54'' W x 75'' L x 14'' H
$1,549
Queen
60'' W x 80'' L x 14'' H
$1,849
King
76'' W x 80'' L x 14'' H
$2,249
Cali King
72'' W x 84'' L x 14'' H
$2,249