This site is supported by our readers. We earn a commission through some of our links.
Learn more.
According to the Mayo Clinic, back pain is one of the most common reasons people go to the doctor or call out of work, and it's the leading cause of disability around the world. It can also be a serious impediment to healthy sleep. Fortunately, back pain can be successfully managed for most people with numerous adjustments to their way of life, specific forms of exercise, or even a simple as trying a new mattress.
Yes, should you encounter pain in your back, the mattress you sleep on could be the underlying basis of your symptoms, and sleeping on the best mattress for you may possibly be the support you require to relieve your back pain. Nevertheless, a mattress is never a type of medical treatment. If your persistent back pain is a severe issue that continues, you should talk to your doctor for help.
Just as you shop for shoes that are the right size and fit you correctly so they don't hurt your feet, you should also look for a mattress that effectively fits your needs as a sleeper. So, what mattress will reduce or eliminate your back pain? Everyone's different, but you'll want to think about certain factors. You'll want to find a mattress that has the right amount of contouring and support for you, so your spine stays in proper alignment. Things like the materials a mattress is made out of, it's firmness level, your preferred sleeping position, as well as your size, are all important to consider.
Here are our recommendations for mattresses that are great at relieving back pain…
#1 – Saatva – Best for Back Pain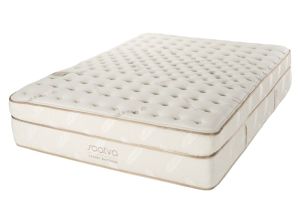 Saatva Highlights
Free white glove delivery & mattress removal
15-year warranty
Available in Plush Soft, Luxury Firm, and Firm
Saatva is a classic hybrid innerspring mattress with a modern luxury touch. Its coil-on-coil design makes it exceptional at supporting the body during sleep. Those coils are individually pocketed, meaning they move independently of one another for better body contouring. On top of that innovative coil system are layers of memory foam and polyfoam, which help relieve pressure. Finally, the support coils around the base and perimeter of the mattress reduce the kind of dipping and sagging that can cause awkward spinal positions.
Saatva comes in two different thicknesses (11.5″ and 14.5″) and three different firmness/comfort options: Plush Soft, Luxury Firm, and Firm. Within this range, you're likely to find a level of support that fits your needs. Many brands will charge you for delivery, but Saatva offers free white-glove delivery service. They will set up your new mattress and take away your old one for no charge. That means you won't have to strain your back lifting any boxes or mattresses yourself. Saatva also comes with a 120-night sleep trial and a 15-year warranty.
Individuals that have a background of back pain should consider various items when choosing their mattress. Points like its thickness, and firmness, the materials used, the sleeper's body weight, and their desired position at night.
#2 – Helix – Most Customizable
Helix Highlights
100-Night Sleep Trial
Individualized comfort with Helix Color Match
10-Year Warranty
As we mentioned above, relieving back pain can be as simple as finding a mattress that fits you well. Both in terms of comfort and support. Helix makes high-quality hybrid mattresses in a variety of comfort levels in the hopes of fitting everyone. By taking the simple Sleep Quiz on their website, you can determine which Helix bed might suit you best.
All of Helix's standard and luxury mattresses are essentially the same when it comes to the materials that go into it, but each one is specifically designed to cater to a different kind of sleeper. Side, back, and stomach sleepers of different sizes and weights will be able to find a Helix mattress that gives them the right level of support and body contouring to keep their spine aligned and free from pain.
Helix also offers a 100-night sleep trial and a 10-year warranty and the mattresses comes conveniently compressed in a box.
#3 – Layla – Flippable Mattress
Layla Highlights
Flippable firmness™
120-night sleep trial
Copper infused memory foam
If you're looking to alleviate your back pain and like to adjust your firmness levels, you may find your next mattress Layla. Both Layla options are great for people who want quality on a budget, and especially those who are not 100% sure how much firmness they want. The ability to flip the beds over and cycle between different firmness levels is such a cool feature and one that goes a long way in making either Layla bed a smart option for first-time buyers.
As a full-service sleep company, Layla also sells bedding, pet beds, and other sleep accessories. All of their products come with full money-back guarantees of quality and warranties. With free shipping and a 120-night trial for their mattresses, we feel that Layla does a great job of making us confident they stand behind their products 100%.
#4 – Bear – Best in Body Recovery
Bear Highlights
Helps alleviate back and joint pain
Celliant® cooling technology
10 or 20-year warranty
100-night trial
Bear offers three different types: the "Original", which offers a more traditional feel with encased coils, the "Pro" made with copper and gel memory foam, and the "Hybrid" which is made with graphite memory foam. All three boast Celliant® cooling technology and are eco-friendly with Certi-PUR-US® certified foams. With these three options, the customer has the ability to choose a mattress feel that fits their lifestyle and sleep needs.
Because of the many layers of foam supporting you, you will not feel a ton of movement when your partner is getting in or out of bed. Many light sleepers have reported that they no longer wake to their partners moving. Because there is good support with minimal sagging over time, there will be no feeling of rolling towards your partner or moving about when they get into bed.
#5 – Purple – Best for Side Sleepers
Purple Highlights
100-Night Trial
Free Shipping & Returns
0% APR Financing
10-Year Warranty
Purple mattresses have a truly unique feel with their proprietary Smart Comfort Grid. It's a one-of-a-kind, almost spongy material that lends the mattress both a feeling of buoyancy and great body-hugging. For anyone with back pain, these mattresses can provide much-needed relief and especially side sleepers who need a bed that can conform well to and support the contours of the body. The Purple Hybrid comes with a system of pocketed coils beneath the Comfort Grid, which adds another level of support that keeps the spine in alignment.
The Smart Comfort Grid also allows for great airflow through the mattress, so it helps keep you cool while you sleep. With a 10-year warranty and 100-night sleep trial, any Purple mattress will be a great choice for anyone who suffers from back pain.