Saatva Mattress Overview
Saatva is an American company that focuses on creating state of the art, luxury innerspring, memory foam, and latex mattresses. Their flagship model, Saatva Classic is a coil-on-coil innerspring mattress with layers of memory foam and polyfoam, crested with a luxury Euro pillow topper to finish. Its materials are all handcrafted and sourced in the United States with a focus on durability, sustainability, and quality.
It is available in any mattress size, with two choices in height (11.5" and 14.5") and three choices in firmness (Plush Soft, Luxury Firm and Firm).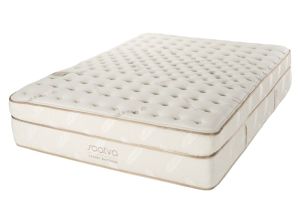 Saatva Highlights
Free white glove delivery & mattress removal
15-year warranty
Available in Plush Soft, Luxury Firm, and Firm
Saatva Highlights
Handcrafted in the US
Eco-friendly materials
Three different comfort options
180-day home trial. Full refund available.
15-year warranty
Free white glove delivery
Mattress Breakdown
Odor:
Excellent
Like most mattresses constructed with polyfoam or memory foam (Saatva has layers of each), we found that this one does initially give off a slight smell when it is brand new. However, the odor fades COMPLETELY within a few days after delivery, making it a non-issue in the long run. Since it has an innerspring construction, there is significantly less smell than any full foam mattress. Furthermore, the flame retardant barrier Saatva uses to protect their mattresses is made from a natural thistle pulp, as opposed to synthesized chemical retardants. This also helps cut down on the smell. If you have a sensitive nose, this might be the best mattress for you.
Durability:
Great
Most well-constructed innerspring mattresses typically last between six and seven years. However, Saatva sets itself apart in the quality of materials that it uses. Everything is handcrafted in the USA. Because Saatva is made with such high-quality materials, you can expect this mattress to last even longer than its innerspring competitors. The company offers a 15-year warranty on their product— if that doesn't suggest long term durability, we don't know what does.
Temperature:
Great
Saatva has a unique design to promote optimal airflow. Two sets of coils create pockets of air that promote circulation through the mattress. This technology, combined with a pillow top that allows airflow much better than typical foam toppers, makes the Saatva mattress one of the coolest on the market. There is little doubt that you will not find an innerspring mattress that has better cooling properties than Saatva.
Sex:
Great
Depending on your needs and preferences, Saatva has you covered in this category. With three separate firmness options (Plush Soft, Firm and Luxury Firm), you and your partner can certainly find a model that suits your style. All three models are exceptionally receptive with great bounce, though we think the Plush Soft and Luxury Firm options slightly outperform the Firm model for this specific activity. Compared to other innerspring mattresses, Saatva has the benefit of being much quieter as well.
Conforming:
Good
The advanced technology in Saatva's materials and design is apparent in the way these mattresses conform to your body. More than just about any other innerspring mattress, the Saatva Classic relieves pain and pressure—we suspect this is due to the combination of individually-wrapped coils and comfort layer of memory foam. While it certainly won't provide the same feeling of a pure memory foam mattress that cradles the body extremely close, the Saatva Classic provides a great combination of the supportive features of spring mattresses with the form-fitting features of memory foam.
Edge Support:
Good
All models of innerspring mattresses generally offer strong edge support, and Saatva is no different. The dual perimeter edge support they include in all models ensures that the surface of the bed is evenly supported, even along its edges. This allows sleepers to take advantage of the entire surface of the mattress without feeling a drop off in support at the edges. We did not find ourselves rolling away from the edges in the night on this mattress.
Noise:
Good
Since innerspring mattresses have coils of metal embedded within them, they are more likely to be noisy than pure foam beds. But we found the Saatva to be almost silent in comparison with other innerspring competitors. This mattress is almost completely noiseless and vastly quieter than any other innerspring mattress on the market. Many people choose to give up older innerspring mattresses when they become noisy over time. With Saatva we're confident that this won't happen.
Motion Isolation:
Average
The technology of innerspring mattresses is never as efficient at eliminating motion transfer as foam mattresses are. However, Saatva is one of the higher-performing innerspring models when it comes to motion isolation. We found a slight transfer of motion with Saatva, but think that it performs significantly better than any other innerspring mattress. For couples who want the support of an innerspring mattress with nearly the motion isolation capabilities of memory foam, this is a great option.
Excellent support and more conforming than you get with many standard innerspring beds.
Available in two different thicknesses and three firmness levels.
Made from eco-friendly materials including recycled steel, bio-based foams, and organic cotton.
Great edge support.
Responsive springiness that couples enjoy.
Free 180-night sleep trial, flexible warranty, and strong customer service that includes complimentary white glove delivery and removal of your old mattress.
This is a heavy-duty luxury mattress which makes it difficult to move.

As an innerspring bed, motion isolation is not its strongest feature.
How does the Saatva mattress feel?
While the innerspring design may lead to a feeling of being "on top" of the mattress rather than being "enveloped" by it, the inserted foam layers will lead to a more natural, customized level of conformance to the body.
Another big thing that sets this bed apart is the choice of firmness that the company offers. The three options are:
Soft ( 5.5 / 10 firmness): This really puts the "pillow" in pillow top. If you want an innerspring bed that you can still sink into a  bit, this is the option for you.
Luxury Firm ( 6.5 / 10 firmness): This is the comfort level that suits the widest range of sleepers. It has less give but more support than the soft option and provides a bit more firmness, making it suitable for all sleeping positions—with enough support for the back and stomach sleepers and enough contouring for side sleepers.
Firm ( 8 / 10 firmness): This is a great option for anyone who likes the feel of a firmer bed. Those who sleep on their back or stomach might find a very firm bed is helpful in relieving pain they might have. There is significantly less give on this mattress than the previous firmness, making it less than ideal for those who want to spine conforming support necessary for good side sleep.
Construction
Organic cotton cover + Euro pillow top
Advanced upper coil system with individually wrapped coils
Dual perimeter edge support
Lumbar support enhancement with premium memory foam and active wire support
Steel coil base support system made from recycled steel
Saatva Service and Delivery
Saatva prides itself on its customer service, and for good reason. It is an utter joy to shop with this company.
The Saatva Classic is not a bed in a box, so it is not easily shipped, but you don't miss out on any service. Saatva offers free white glove delivery, and even removes your old mattress free of charge, making the ease of set up on par with any boxed mattress.
Furthermore, friendly representatives are available via phone and on their website, 24 hours a day should you have questions or problems. They offer a 180-night trial period for all of their products and a 15-year warranty for the Saatva Classic. This company stands behind its work and goes out of its way to make sure you feel happy and satisfied when you shop with them.
Is This Mattress for Me?
The Saatva Classic is an excellent choice for sleepers looking for the supportive benefits of a conventional innerspring as well as the cushioning, pain-relieving benefits of a memory foam mattress. The remarkable technology integrated into the design of the Saatva Classic results in a bed that is exceptionally comfortable while still offering superior support.
The technology of the mattress' innerspring coils also means it is one of the coolest beds on the market. For people that sleep hot, the Saatva Classic provides outstanding airflow. Coupled with the luxury pillow topper, this mattress will truly feel like sleeping on a cool cloud.
Lastly, the quality of materials and careful craftsmanship that go into Saatva Classic mattresses make them a fabulous option for anyone looking to get a high return on their purchase. These things are built to last. If for any reason, if they don't, the company's 15-year warranty will come in handy.
We Recommend This If You:
Sleep in any position (back, side, stomach)
Sleep hot and want a cooling bed
Prefer the support of innerspring technology
Want a mattress that will last many years
Care about the environmental impact of your mattress
Are sensitive to chemical odors
The Saatva mattress is available in Twin, Twin-XL, Full, Queen, King, California King, Split King, and Split California King at the following prices.

Mattress Specifications
SIZE
DIMENSIONS
PRICES
Twin
38'' W x 75'' L x 11.5" H / 14.5'' H
$887
Twin XL
38'' W x 80'' L x 11.5" H / 14.5'' H
$1,087
Full
54'' W x 75'' L x 11.5" H / 14.5'' H
$1,474
Queen
60'' W x 80'' L x 11.5" H / 14.5'' H
$1,574
King
76'' W x 80'' L x 11.5" H / 14.5'' H
$1,974
Cali King
72'' W x 84'' L x 11.5" H / 14.5'' H
$1,974
Split King
76'' W x 80'' L x 11.5" H / 14.5'' H
$2,174
Split Cali King
76'' W x 84'' L x 11.5" H / 14.5'' H
$2,174
Saatva Mattress FAQ