This site is supported by our readers. We earn a commission through some of our links.
Learn more.
Despite the flurry of memory foam and latex beds coming on the scene, traditional innersprings still make up the majority of mattress sales worldwide. Innerspring mattresses are made with, you guessed it, springs! They are built with a system of steel coils and vary from company to company in the types of coils used. Some have a system of coils in one large block, some have a network of individually-wrapped coils. Others, like
Saatva
, for example, have layers of both for better contouring, support and durability. Generally, the more of coils a bed has, the better it can contour to and support the sleeper.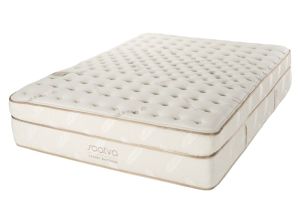 Saatva Highlights
Free white glove delivery & mattress removal
15-year warranty
Available in Plush Soft, Luxury Firm, and Firm
Many innersprings also include layers of other materials like memory foam for additional comfort and support. Some would call these mattresses hybrids, but since their primarily made with spring systems, they can certainly fall into the innerspring category.
Pros and Cons
Innersprings tend to be more affordable than newer alternatives. If you're on a budget, your money will go farther with this kind of mattress.
They are also capable of catering to a wide variety of sleepers (side, back, stomach sleepers, as well as light/heavy sleepers and those who experience all kinds of body pain).
Less density means better breathability, means you will sleep a lot cooler.
The springiness and responsivity also make these beds great for sex.
Some sleepers complain about their noise and lack of motion isolation. Today's quality innersprings have done much to cut down on noise/creakiness and improve motion isolation, but for many sleepers, they do not compare to memory foam and latex in either of these two categories.
Many customers will report sagging with innersprings and in general, they tend to have shorter lifespans than memory foam and latex alternatives. With a high-quality luxury bed, you are unlikely to experience these problems.
Innerspring beds may not provide the contouring and pressure-point relief that many sleepers like.
Innerspring vs. Memory Foam/Latex
With multiple layers and spring systems, innersprings are believed to provide better overall support.
Memory foam mattresses
and
latex mattresses
, on the other hand, are built to hug your body. This difference in supportiveness is perhaps the biggest distinction (aside from the raw materials) between innerspring and memory foam/latex. Latex and memory foam both conform to your body. Some sleepers enjoy the feeling of being enveloped by their mattress. Other sleepers find it too hard to move and dislike this "quicksand" feeling. Innersprings are more responsive to your movement. They move with you, so it feels more like you're floating on the bed rather than sinking into it. Consequently, they're not so good when it comes to motion isolation and noise – two categories where memory foam and latex shine. Very generally speaking, back and stomach sleepers tend to favor innersprings, while
side sleepers
tend to sleep better on memory foam and latex.

Avocado Highlights
Natural Materials
No Polyurethane Foams or Toxic Chemicals
Made in USA
Is an Innerspring Mattress Right for Me?
Innerspring beds tend to be on the firmer side, so they can be very good for heavier individuals. They generally do not offer the same kind of contouring and sink-factor as memory foam and latex. However, you can certainly find some on the softer end of the spectrum. You can also find beds that have both springs and comfort layers of memory foam to get some of that hugging feel. Innersprings are also very good at alleviating back pain. They're especially good for back sleepers, and also provide good spinal support for stomach sleepers. Some side sleepers may find innerspring beds to be not soft enough to alleviate pressure on certain parts of the body. Though, many beds will come in softer comfort levels.
Helix Highlights
100-Night Sleep Trial
Individualized comfort with Helix Color Match
10-Year Warranty
If you are a hot sleeper, an innerspring is for you. They retain much less body heat than memory foam and latex. They also have more bounce and responsiveness, which many people feel makes them ideal for sex. There are many innerspring mattresses on the market today. Which means a great ease of finding a mattress that is perfectly suited to your needs. If you want a mattress that can be custom-tailored to you, you should go with Saatva. That's just one of the reasons we've not only ranked it as the #1 Best Innerspring Mattress, but as
The #1 Luxury Mattress
overall. Read our
full Saatva review
for more on why it is the best mattress out there.