Loom and Leaf Mattress Overview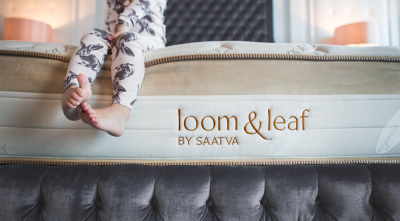 The Loom & Leaf is the luxury mattress brand Saatva's memory foam mattress. This ultra-premium product is comparable in quality to memory foam leaders like Tempur-Pedic, but due to Saatva's direct-to-consumer model, the price of the Loom & Leaf is about 70% less.
This mattress does not come packaged in a box, like many modern memory foam beds. While it also prices a bit higher than these boxed-competitors, the significantly higher quality of material and construction more than makes up for the difference. Moreover, Saatva's free white-glove delivery makes it just as, if not more convenient to set up than a boxed mattress.
Loom & Leaf is made with high-density memory foam, with cooling gel in the top layer and a supporting base layer made from high-density polyfoam. Its construction makes it remarkably supportive and able to alleviate pressure on the spine, thereby eliminating the pain some sleepers experience with less conforming beds.
The Loom & Leaf comes in two different comfort levels, Relaxed Firm, and Firm. Between those two options, just about all sleepers will have their preferences met. This mattress comes highly reviewed by its customers, and you can read on to see why.
Loom And Leaf Highlights
Free white glove delivery and mattress removal
15-year warranty
Available in Relaxed Firm and Firm
Loom and Leaf Highlights
Hand made in the US
Eco-friendly memory foam
Available in multiple comfort options
180-night sleep trial
15-year warranty
Free white glove delivery
Mattress Breakdown
Odor:
Good
One of the biggest complaints with boxed memory foam mattresses is the smell they emit. Off-gassing occurs when the compressed foam expands after removal from the box. With the Loom & Leaf, however, there is no compression as the mattress is delivered by hand and never squished into a box. Some users reported a brief chemical smell that dissipated within hours, though we did not find this to be a problem. Furthermore, Saatva uses only eco-friendly foams that do not contain harmful chemicals, so you don't have to worry at all about what you might be breathing in.
Durability:
Great
Since the Loom & Leaf has not been on the market very long, we can't say for certain how long the mattress holds up. However, the extremely high quality of the materials and construction that goes into creating the bed make us confident that it should last just as long, or longer than similar memory foam options. The 15-year warranty offered by Saatva is also a good indication that the manufacturer expects this mattress to last a long long time.
Temperature:
Good
Typically, the density of memory foam mattresses means that air flow is sub-optimal, which can result in a warmer night. But the Loom & Leaf performs exceptionally well in this category due to its proprietary Spinal Zone Gel layer. This allows for better airflow and a significantly cooler experience than you find with most memory foam mattresses. This layer also contributes to the excellent cushioning the mattresses provides, making it the perfect option for sleepers who want to remain cool while still having a bed that conforms to their body.
Sex:
Good
While each couple will have their own preferences, the Loom & Leaf is similar to many memory foam mattresses in that it has mostly give and not much bounce back. Some people may like this, and others might prefer a bit more responsiveness. Depending on your wants, you may prefer the Firm option for less sinking.
Conforming:
Great
Loom & Leaf comes in two different firmness options, each providing slightly different levels of support and give. However, the memory foam and gel construction of the mattress give both models a high level of conformability. This mattress is designed to conform to the sleeper's spine, target pressure points and alleviate symptoms of pain. We found that it offers better contouring and support than the average memory foam mattress.
Edge Support:
Average
Like all memory foam mattresses, edge support is not as good on the Loom & Leaf as it is with innerspring mattresses. That being said, the Loom & Leaf has much better edge support than many of its competitors in the memory foam department.
Noise:
Excellent
The solid construction of memory foam and gel, as well as the quieting effects of the cotton covering mean that the Loom & Leaf should make virtually no noise at all. Our tests found that the typical rustling of sheets and bedding produced louder sounds than the mattress itself. This is simply a non-issue for the Loom & Leaf.
Motion Isolation:
Excellent
The memory foam, gel and cotton covering combination on the Loom & Leaf make it one of the best mattresses on the market when it comes to motion transfer. This bed does an excellent job of deadening movement, and we recommend it to any couples where tossing and turning is a problem. Users report almost zero movement when their partner gets in and out of bed, so you'll find you can sleep through most any movement without being disturbed.
Comes in multiple levels of firmness: Relaxed Firm and Firm
Conforms to body's natural alignment for support and pressure relief
Very impressive motion isolation and virtually no noise
Free white glove delivery and old mattress removal
Free 180-night sleep trial
Top-notch customer service
Memory foam mattresses, in general, may sleep too hot for some

Average edge support characteristic of memory foam

Weight makes it difficult to move (luckily they set it up for you, FREE)
How does the Loom and Leaf mattress feel?
The Loom & Leaf mattress is one of the top performers in the memory foam field. The comfy quilted cotton covering provides a soft surface, while the layers of memory foam and Spinal Zone gel allow the bed to cradle your body and contour to your body, no matter your sleeping position.
Depending on how firm you like your mattress to feel, Saatva offers two firmness choices for the Loom & Leaf:
Relaxed Firm (6 / 10 firmness): This option is best for those who tend to sleep on their side, or want a mattress that will cradle their body completely. This fluffy, giving top will have you feeling like you're sleeping on a cloud—if clouds could align your spine and offer relief from pain.
Firm (8 / 10 firmness): For back sleepers, stomach sleepers, heavier-weight sleepers, or anyone that prefers a bit more support during sleep, this is the best option. At this firmness, you still retain the conforming qualities of the memory foam and gel layer, but there is a bit more support and less sink, making it feel as though you're more on top of the mattress, rather than enveloped by it.
Mattress Construction
Quilted organic cotton covering
A cooling layer made with Spinal Zone Gel
Eco-friendly, 5lb. premium foam
Multi-layer breathable support
Loom and Leaf Service and Delivery
Saatva prides itself on its customer service, and for good reason. It is an absolute pleasure to do business with their company.
The Loom & Leaf is not a bed in a box (it's too heavy-duty for that). Burt with Saatva's free white glove delivery and removal of your old mattress free of charge. Delivery and setup is even easier than with a boxed mattress. You won't have to lift a finger
Finally, friendly representatives are available via phone and on their website, 24 hours a day should you have questions or problems. They offer a 180-night trial period for all of their products and a 15-year warranty for the Loom & Leaf. This company stands behind their work and goes out of their way to make sure you feel comfortable and satisfied when you choose one of their mattresses
Is This Mattress for Me?
The Loom & Leaf is a great option for sleepers of all kinds: stomach, back and side. It's technologically advanced combination of memory foam and proprietary Spinal Zone Gel provide one of the most luxurious foam bed experiences we've come across. Unlike its competitors, this bed is cooler than most memory foam mattresses, while still providing all of the comfort benefits of a dense foam construction.
This bed is also among the most well-constructed memory foam models we've seen. Its high-quality materials and design ensure that it will last for a long time. On top of that, Saatva does a great job using eco-friendly materials, so you can rest assured that your mattress is good for the planet and you're not breathing in any harmful chemicals while you sleep on it.
If you want an all around high-performing memory foam mattress that will last for years, be great for all types of sleep, and be a breeze to set up, the Loom & Leaf is for you.
We Recommend This If You:
Sleep in any position (back, stomach or side)
Have a partner that moves a lot
Desire a bed with body-conforming properties
Want a mattress that will last for a long time
Are concerned about the environmental impact of your mattress
Prefer a bed that will keep you cool at night
Sizing and Pricing
The Loom & Leaf is available in Twin, Twin XL, Full, Queen, King, and California King at the following prices.

Mattress Specifications
SIZE
DIMENSIONS
PRICES
Twin
38'' W x 75'' L x 12'' H
$949
Twin XL
38'' W x 80'' L x 12'' H
$1,249
Full
54'' W x 75'' L x 12'' H
$1,799
Queen
60'' W x 80'' L x 12'' H
$1,899
King
76'' W x 80'' L x 12'' H
$2,199
Cali King
72'' W x 84'' L x 12'' H
$2,199
Split King
76'' W x 80'' L x 12'' H
$2,498
Split Cali King
76'' W x 84'' L x 12'' H
$2,576