Purple Mattress Overview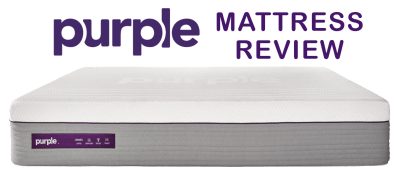 Purple is one of the most popular mattress brands in America right now. They are well known for their clever, and incessant ad campaigns that can be found plastered across all corners of the internet. However, the products they offer are truly superb. Their proprietary Purple Grid™ technology allows them to create mattresses that are supremely comfortable and supportive, at a price point that is affordable to the average person.
They offer three different mattress options these days: The Purple mattress, The Hybrid, and The Hybrid Premier. The Purple is the first mattress the company created, combining polyfoam with their Purple Grid™ in the most affordable model. The Purple Hybrid and Purple Hybrid Premier add an innerspring layer into the mix for slightly more comfort, and a slightly higher price tag.
We like both the Purple and the Hybrid for different reasons. This review will focus on both to help you get a good sense of which mattress might be right for you!
Purple Highlights
100-Night Trial
Free Shipping & Returns
0% APR Financing
10-Year Warranty
Purple Highlights
Free shipping and returns
100-night free trial
10-year warranty
Great temperature control
Multiple firmness and thicknesses options (Hybrid Premier)
Non-Toxic and Hypoallergenic
Mattress Breakdown
Odor:
Good
All mattresses that come in a box will naturally have to be compressed to fit. As a result, the memory foam or polyfoam elements may off-gas slightly when the bed is unboxed. The Purple Original does have an odor when it is first unraveled, but we found that it dissipated over the course of a few hours when we opened the windows and let it breathe a bit.
Durability:
Good
Purple promises that its unique polymer foam should last sleepers for decades. They also offer a ten-year warranty against any problems with manufacture. We can't say for certain how well these beds really hold up, though, as the company has only been around since 2016, but the quality of materials suggest it's built to last.
Temperature:
Great
The Purple is made with several layers of breathable foam, as well as its patented Purple Grid™ gel technology. All of these layers of construction are relatively porous, leading to a foam mattress that maintains better airflow and sleeps cooler than many of its competitors.
Sex:
Average
Though every couple will have their own preferences when it comes to the right bed for sex, the Purple is a rather soft option that does not provide a super steady surface. Perhaps this is ideal for some couples, but we think that a more responsive mattress is better suited for certain activities.
Conforming:
Great
Purple's biggest claim to fame is its pressure-relieving, Purple Grid™ technology, and it is on full display in this mattress. The Purple does a great job of cushioning the body, relieving pressure on joints, and aligning the spine through gentle cradling. We think this makes the Purple an especially good choice for sleepers who tend to stay on their side most of the night, though it works fine for all sleepers.
Edge Support:
Average
Like most all-foam mattresses, the Purple does not exactly shine when it comes to perimeter edge support. There is no reinforcing material added to increase the firmness of the edge of the mattress, and as a result, it does have more give than a traditional innerspring bed. However, the Purple Hybrid might be a good choice for someone who likes the feel of a Purple, but wants a bit more edge support.
Noise:
Excellent
The Purple Original is completely silent when you move around on it. Do we have to say more?
Motion Isolation:
Great
The Purple Grid™ layer of the bed is hard at work when it comes to isolating motion. You can tell there is something special about this mattress because of how little transfer of motion there is across the surface. Even getting in and out of bed should cause little to no disturbance for a partner on the other side.
Purple offers three different styles of mattress to meet your budget and sleeping needs
The Purple is among the most affordable mattresses on the market
All Purple beds come with patented Purple Grid™ technology to relieve pressure on sleepers' joints
Purple beds sleep very cool, especially for foam-based beds
Purple offers a 100-night sleep trial and a 10-year warranty
Since Purple is a young company, we cannot accurately report the long-term durability of their products

The edge support on the Purple is not as good as is it on the Hybrid model

How does the Purple mattress feel?
Despite having extra layers of construction in the Hybrid model, we found the Original and Hybrid to both weigh in at around a 6.5 out of 10 when it comes to firmness. These are beds that offer serious support, without feeling super hard to the touch. The Purple Grid™ technology is a 2'' layer in both of these beds, and because of it you can rest assured that you will be fully supported throughout your sleep.
Both models have extra soft top layers that simply feel great to the touch, even though sheets. However, if you are looking for a bed that has even more softness and give to it, we recommend checking out Purple's Hybrid Premier model. Though it is a bit more expensive, you can opt for a thicker layer of Purple Grid™ technology that makes the mattress feel all the more cushioning. If you have serious problems with pain, or simply want a bed that cradles your body, this could be the perfect option for you.
Purple Mattress Construction
Responsive knit blend top cover made of 29% Viscose, 67% Polyester, 4% Lycra
2" Purple Grid™ comfort layer
Middle layer: 3.5" high-density polyfoam
Base layer: 4" high-density polyfoam
Hybrid Mattress Construction
Comfort stretch cover of knit fabric: 29% Viscose, 67% Polyester, 4% Lycra
2" Purple Grid™ comfort layer
Middle layer: 7.5" responsive individual support coils
Two transitional foam layers around the coil system
Purple Service and Delivery
Purple has fantastic customer support that starts the moment you purchase your mattress. The Purple comes compressed in a box and is shipped for free anywhere in the US and Canada.
For the Hybrid and Luxury Hybrid models, Purple offers free white-glove delivery that includes the removal of your old mattress at no additional cost.
All mattresses come with a 100-night risk-free trial period, as well as a 10-year limited warranty.
Is This Mattress for Me?
Purple has a mattress that's right for everyone.
We love the Purple for its affordability, easy setup, fantastic support, and breathability. This is a great mattress for first-time buyers, or anyone who wants to get the best bang for their buck. We feel confident that this model is one of the better bed-in-a-box models. If you are a sleeper who wants a bit more support from a foam mattress, this is a great option for you!
The Purple Hybrid is a strong option for those looking to spend a bit more money, but expect a lot in return. The Purple Grid™ layer, in combination with a layer of individually-wrapped coils, takes the same weightless feeling you get from the Purple mattress and kicks it up a notch. This mattress also offers superior motion isolation, edge support, and a bit more cushioning to help relieve pressure on the joints and spine. This is a fantastic option for couples who consider themselves light sleepers, or for sleepers in any position that want a mattress to relieve pain.
If you are interested in a seriously luxurious mattress that can be customized to fit your exact needs, check out the Purple Hybrid Premier.
Purple Mattress Specifications
SIZE
DIMENSIONS
PRICES
Twin
37'' W x 75'' L x 9.25'' H
$599
Twin XL
38'' W x 80'' L x 9.25'' H
$799
Full
54'' W x 76'' L x 9.25'' H
$999
Queen
60'' W x 80'' L x 9.25'' H
$1149
King
76'' W x 80'' L x 9.25'' H
$1449
Cali King
72'' W x 84'' L x 9.25'' H
$1449
Split King
76'' W x 80'' L x 9.25'' H
$1598
Hybrid Specifications
SIZE
DIMENSIONS
PRICES
Twin XL
38'' W x 80'' L x 11'' H
$1399
Full
54'' W x 76'' L x 11'' H
$1599
Queen
60'' W x 80'' L x 11'' H
$1699
King
76'' W x 80'' L x 11'' H
$1999
Cali King
72'' W x 84'' L x 11'' H
$1999
Split King
76'' W x 80'' L x 11'' H
$2897
Hybrid Premier Specifications
SIZE
DIMENSIONS
PRICES
Twin XL
38'' W x 80'' L x 12'' H
$1999
Full
54'' W x 76'' L x 12'' H
$2199
Queen
60'' W x 80'' L x 12'' H
$2299
King
76'' W x 80'' L x 12'' H
$2799
Cali King
72'' W x 84'' L x 12'' H
$2799
Split King
76'' W x 80'' L x 12'' H
$3998
We Recommend This If You:
Sleep in any position (back, side, stomach)
Sleep hot and want a cooling bed
Want to shop for a mattress on a budget
Have a partner that is easily disturbed by too much motion
Want seamless delivery and set up of your bed
Suffer from pain and want a mattress that relieves pressure on your joints and spine