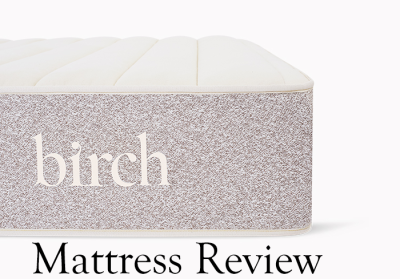 Birch is the environmentally-conscious subsidiary of sleep giant Helix. Their only mattress, called simply the "Birch Natural Mattress," is billed as one of the most sustainable and ethical beds on the market today.
The Birch Natural Mattress is an 11' hybrid model, handcrafted in the USA from sustainably-sourced and organic materials. The latex, cotton, and wool used across all six of the layers are purchased from suppliers with ethical and environmentally-friendly business models. The resulting product is one of the few beds-in-a-box that prizes its environmental impact above almost every other aspect of design. None of this comes at the cost of quality, however—the Birch is one of our favorite hybrids for many reasons.
Birch goes even further in its mission to protect the planet by pledging 1% of its profits to the National Forest Foundation, a non-profit dedicated to planting 50 million trees in US National Parks by 2023. Every product purchased from Birch, from their flagship mattress to its pillow toppers and bed frames helps support this goal.
Birch Natural Mattress Highlights
100-night sleep trial
Free Shipping and Returns
Made in USA
Birch Highlights
Organic, non-toxic, sustainable materials
Some proceeds go to reforestation
100-night sleep trial
25-year warranty
Free shipping across the USA
Breathable materials for a cooler sleep
Mattress Breakdown
Odor:
Good
Like any mattresses with foam or gel layers that have to expand once unboxed, the Birch came with some off-gassing odor during setup. This dissipated quickly, and we found it to be a non-issue after a day or two. Birch goes out of its way to source non-toxic materials for its beds, and we think the off-gassing that did occur with the Birch was not nearly as bad as it was with some foam mattresses with unnatural materials.
Durability:
Great
Judging from the quality of the materials and craftsmanship that goes into creating the Birch Mattress, we feel confident that this bed will hold up for as long if not longer than other hybrids in its category. The latex, wool, and steel used in the product are of the highest quality and come with a 25-year warranty behind them. Since Birch first rolled out this mattress in 2019, we can't say for sure what the average lifespan will be—but we do feel confident saying that the feel of the bed suggests long-term quality.
Temperature:
Excellent
We found the temperature regulation of the Birch to be one of its most impressive features. Each layer is designed for maximum breathability, from its organic cotton top cover all the way to its wool base layer. Like many hybrid mattresses, the layer of coils adds significant airflow to the Birch. This surprised us, given that wool is not typically associated with cool sleeping. But Birch pulls it off somehow! If you sleep hot, this is a great mattress for you.
Sex:
Excellent
This is a great bed for sex. It's supportive, springy, and responsive, all important elements when it comes to getting it on. With reinforced edge support and a robust system of coil support throughout the center of the mattress, the Birch is sturdy enough to be a foundation for lots of movement all over the mattress. Amazingly, it accomplishes all of this while still offering a supremely soft and inviting top layer of cotton.
Conforming:
Average
This is not built to cradle your body in the same way as an all-foam mattress. In fact, elements of the Birch are designed to retain their shape over time, which is a good feature for those who want a long-lasting, firmer bed, but not for those who are looking for something that will mold to their shape each night. While the cotton top layer is certainly soft and comfortable, you just won't sink into the Birch in the way you would on a totally-foam bed.
Edge Support:
Excellent
The Birch is incredibly sturdy, especially when it comes to edge support. Birch uses reinforced steel coils around the perimeter of the mattress. These are slightly thicker and denser than what you'll find in the center of the coil layer, and the result is a very noticeable supportive feeling along the entire edge of the mattress. We had no problem sitting comfortably on the side of the bed, and more importantly, we did not feel at risk for sagging off the edge while we slept (yes, it happens). For heavier sleepers, this is an awesome thing to not have to worry about.
Noise:
Good
With any hybrid or innerspring mattress, the steel coils can (and do in Birch's case) make a slight noise. Especially over time, there is a chance the noise will increase as the bed ages, though we suspect this will be a problem only for the most sensitive of sleepers. We didn't notice any disruptive noise in the first stages of using the Birch.
Motion Isolation:
Average
Because of the extensive use of latex and the spring coils in the Birch mattress, the motion isolation we experienced was less than stellar. Typically these materials add springiness and support at the cost of not being able to isolate movements as well as mattresses that are made entirely of foam. This is the case for the Birch, where tossing, turning, and getting up were somewhat noticeable to someone on the other side of the bed.
Pros
Environmentally friendly
Easy shipping and installation
Sturdier and more supportive than most hybrid models
Strong edge support
Extremely breathable and cooling
Cons
May be too firm for lighter sleepers

Somewhat pricey (but worth every penny)

Average motion isolation

How does the Birch mattress feel?
Between the latex layers and the robust network of supportive steel coils, the Birch mattress is certainly on the firmer side of the spectrum. Anyone looking for a more supportive sleep should consider the Birch, which we think excels in providing pressure relief on joints and the back. But if you are looking for a more cloud-like sleep, and like to really sink into your bed, maybe skip this model in favor of an all-foam mattress.
Overall, we think the Birch comes in at about a 7.5 out of 10 on the firmness scale, putting it at the upper end of the hybrid mattresses we've reviewed.
We should point out that the firmness of the mattress does not mean the top layer of the Birch isn't supremely comfortable—it is. The cotton and wool layers that form the surface are incredibly soft and supple, designed intelligently to keep cool while relieving pressure from the body. If you prefer a firmer mattress, the Birch is able to provide support without sacrificing the comfort of a plush top layer. Great for all types of sleepers, but stomach and back sleepers especially.
Birch Natural Mattress Construction
GOTS-certified Organic Cotton Topper
Fire-retardant Organic Wool Cover
Organic Wool Comfort Layer
Natural Latex Support Layer
US-molded, individual steel coil layer
Organic Wool Batting Base Layer
Birch Service and Delivery
Birch is a small subsidiary of Helix, which offers a vast range of mattresses and sleep products. The company provides seamless ordering and delivery online, including a no-contact delivery option. Mattresses typically ship within 5-20 business days. Mattress installation can be done without any professional help; simply unbox, unwrap, and wait.
Helix has great customer service as well, with easily accessible associates available via phone, email, or web chat to solve problems and answer questions.
We think it's impressive that Birch has invested in giving back to the environmental community. Their commitment to donating a portion of their proceeds to environmental causes is admirable. If you are serious about using your purchasing power to push for change, this company is a great choice.
Mattress Specifications
SIZE
DIMENSIONS
PRICES
Twin
38'' W x 75'' L
$1,049
Twin XL
38'' W x 80'' L
$1,099
Full
54'' W x 75'' L
$1,299
Queen
60'' W x 80'' L
$1,499
King
76'' W x 80'' L
$1,799
Cali King
72'' W x 84'' L
$1,799
Is This Mattress for Me?
First, this mattress is great for sleepers who want a bed that's on the firmer side and very supportive. Birch is one of the best luxury mattresses in this category. The individually-wrapped coil system, combined with responsive latex foam layers, makes the mattress ideal for heavier sleepers, back sleepers, and those who simply prefer a more supportive sleep. Lighter sleepers who like to sleep on their side may find this bed a bit too firm, as it can be hard to engage fully with the give of the latex layers if you aren't heavy enough.
The second person we recommend the Birch for is the eco-warrior! We're not sure there's a more eco-friendly mattress out there, and certainly not one created by a company with a mission to donate to environmental causes. From the materials to the manufacturing process to shipping, Birch has thought about all of the ways they can make their mattress greener—and it feels like they've done them. If you care about the environment above all else, this could be the bed for you.
We Recommend This If You:
Are a heavier sleeper or back sleeper
Prefer a firmer, more supportive mattress
Want a seamless delivery and set-up experience
Care about the environmental impact of your purchase
Want to try a mattress before you commit to it
Birch Mattress FAQ
How much does Birch Mattress weigh?
The Twin weighs 63 lbs, Twin XL is 67 lbs, Full is 87 lbs. The Queen size weighs 105 lbs, King is 131 lbs, and the California King is 130 lbs.
Birch Mattress where to buy?
You can only purchase from their retail website, birchliving.com
Where are Birch Mattresses made?
All of their products are made in the US.
Do they remove my old mattress?
No, they do not offer mattress removal.
Where do they ship?
They offer shipping to all 50 US states.
Layla is a New Haven, Connecticut–based mattress company founded in 2016. Currently, they offer two mattresses; a memory-foam model called the Layla Memory Foam Mattress, and a hybrid innerspring model called the Layla Hybrid Mattress.
The Layla Memory Foam Mattress has six distinct layers of technologically-advanced foam. Two of these layers include a unique copper-infused gel that helps prevent bacteria build-up and associated odors. One of the other cool features of this model is that it is reversible, with one side of the mattress offering a more plush feel, and the other providing more firm support. This mattress in a box is available at a relatively low price point.
The Hybrid Mattress from Layla is going to cost a bit more, but for good reason. In addition to the many foam layers that make the Memory Foam model great, the Hybrid mattress includes a thick layer of individually-coiled springs to offer increased edge support and superior responsiveness. Luckily for sleepers considering a Layla mattress, their website offers a helpful guide to choosing between the two options!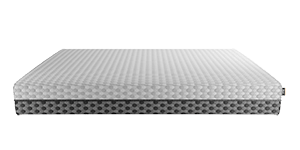 Memory Foam Highlights
Flippable firmness™
120-night sleep trial
Copper infused memory foam
Layla Highlights
120-night sleep trial
All Made in USA
Free shipping to the lower 48 states
Copper-infused foam helps prevent odor buildup
Cooling gel allows for breathability throughout the night
Flippable firmness™ to provide two firmness options
Mattress Breakdown
Odor:
Excellent
Both of Layla's models contain multiple layers of memory foam, and as a result, both will release some fumes when you open them up. However, both products will be odor-free within one to two days. The Hybrid model was completely odor-free within a day. It's worth noting that the inclusion of copper-infused foam layers in both options provide a natural antimicrobial function that cuts down on the typical odor buildup you see with other mattresses over time. Therefore, both options have some of the best smelling mattresses on the market, long term.
Durability:
Good
The memory foam and hybrid options are both relatively new products—neither one has been around long enough to properly evaluate how it holds up over the course of the average lifespan. However, we think the materials are well constructed and of high quality, suggesting these will be quite durable. The ability to flip each model also adds some points in this category, as this feature will definitely allow you to prolong the shape and form of your mattress.
Temperature:
Excellent
Each of the Layla mattresses offers technologically-advanced features that promote excellent temperature regulation. The Memory Foam model offers breathable gel foam layers that help cool air throughout the night. Also, the copper-infused foam layer has cooling properties, in addition to its antimicrobial function.
Sex:
Good
As we alluded to in the edge support category, the Layla Memory Foam does not perform well when it comes to springiness or bounce. The mattress is very soft, plush, conforming, and many couples prefer one with more responsiveness for sex. The Hybrid Layla does perform a bit better in this category because it is part innerspring. The inclusion of a thick layer of individually coiled springs gives the bed great responsiveness and some bounce that lends itself well to sex.
Conforming:
Excellent
These mattresses really excel when it comes to conforming to your body. This isn't just because the memory foam layers in both beds are exceptionally soft and plush (which they are), but also because the ability to choose between two different softness options allows for more unique customization to your body weight. We felt that the Memory Foam model was slightly more conforming on both sides of the mattress than the Hybrid model. But that being said, we think the Hybrid Layla offers a more conforming feel than you will find with many hybrid models out there.
Edge Support:
Good
The Layla Memory Foam mattress, like many all-foam mattresses, offers little in the way of edge support. It was designed for cushioning more than providing support at its perimeter. However, the Layla Hybrid model fared much better in this category. We liked the added support of the spring system and felt comfortable support while laying or sitting on the edge of this bed, no matter which side it was flipped on.
Noise:
Excellent
Incredibly, the Layla Hybrid was almost as silent as the Memory Foam model. Both of these beds, despite one having hundreds of metal springs in it, were almost completely silent. We don't imagine noise will be an issue with Layla, but if you are extremely sensitive to this issue, we recommend going with the all foam model.
Motion Isolation:
Great
The Memory Foam model offers great motion isolation, especially on the softer side of the mattress. This is a nice option for couples who have someone who moves a lot during the night. The thickness of the top layer of memory foam absorbed a ton of the motion, and it's safe to say that any shuffling or turning during the night should not disturb a partner. For the Layla Hybrid, there was noticeably less motion isolation, which is typical of hybrid mattresses. The trade-off for a more supportive sleep is worth it if you are not too sensitive to movement during the night.
Pros
Relatively inexpensive
Easy to order, install and maintain
Made in the USA
Flippable firmness™
Copper-infused memory foam
Cons
Average edge support (Memory Foam model)

On the heavy side (Layla Hybrid)
How does the Layla mattress feel?
We love Layla because of the creative, flippable design of both of its mattresses. This feature allows for sleepers to change the feel of their mattress whenever they please, choosing between a softer top and a more firm option on the opposite side. Both the Layla Memory Foam mattress and the Layla Hybrid mattress are made with thermo-gel cooling foam top layers; the difference in firmness is achieved by using more or less of this material on either side of the mattress.
The Memory Foam model is definitely the softer, more plush feeling of the two. The top layer of foam is really giving, though there is a noticeable difference between the thicker and thinner sides. The thicker side comes in at about a 7 out of 10 on the firmness scale, while the thinner side comes in at about 4 out of 10. This is a huge difference, but in both cases the bed tends to offer a more swaddled, softer feel than the average foam mattress.
The Hybrid Model offers a slightly more supportive feel due to an added layer of innersprings. Though it too is flippable to provide two firmness options, both come in higher on the firmness scale. We rate the thinner side of the Hybrid at a 5 out of 10, and the thicker side as an 8 out of 10.
Overall, we love the feel of the removable fabric covers that are employed on the foam layers topping each side of both models. If you like a luxurious feeling bed that swaddles as well as it supports, this is the brand for you!
Memory Foam Construction
Covered Soft Side, Cooling Memory Foam Layer (Thinner side)
3" Copper-Gel Memory Foam
2" Max Airflow Support Foam
4" Support Core Foam
1" Copper-Gel Memory Foam
Covered Soft Side, Cooling Memory Foam Layer (Thicker side)
Hybrid construction offers an additional layer of innersprings:
Covered Soft Side, Cooling Memory Foam Layer (Thinner side)
2.5" Copper-Gel Memory Foam
2" Max Airflow Support Foam
6" Infinity Edge Individually Wrapped Coil System
1.5" Max Airflow Support Foam
1" Copper-Gel Memory Foam
Covered Soft Side, Cooling Memory Foam Layer (Thicker side)
Layla Service and Delivery
Layla ships for free across the lower 48 states of the USA. HI and AK will be charged a separate fee. Most customers report receiving their mattress within one business week of ordering. Both beds are easy to open, install, and use without any assistance.
The Layla customer service team is also helpful in answering any questions about their products, or which one might be right for you. As we mentioned in the intro to this review, they have a beneficial page that can help you decide which is better for your personal sleep style: memory foam or hybrid. They also have a chat service on their website where we reached a helpful and cheery representative within seconds!
As a full-service sleep company, Layla also sells bedding, pet beds, and other sleep accessories. All of their products come with full money-back guarantees of quality and warranties. With free shipping and a 120-night trial for their mattresses, we feel that Layla does a great job of making us confident they stand behind their products 100%.
Is This Mattress for Me?
Both Layla options are great for people who want quality on a budget, and especially those who are not 100% sure how much firmness they want. The ability to flip the beds over and cycle between different firmness levels is such a cool feature and one that goes a long way in making either Layla bed a smart option for first-time buyers.
If you want a bed that's incredibly soft, easy to order and install, and will keep you cool at night, all on a budget, we recommend the Layla Memory Foam bed. This one is suitable for people who want to have that deep hugging, sinking feeling—typically, this is good for people of all sleep styles who want to feel cradled by the conforming nature of the materials. Heavier sleepers might want to go with a firmer Layla Hybrid.
We recommend the Hybrid for people who want a little bit more of a supportive sleep at night. The coil system, embedded in very comfortable foam, gives this bed the extra firmness and support that some people crave. It is softer than many hybrid models, which some people will love. But the ability to choose between more or less firm sides on the bed makes it one of the most attractive hybrid beds on the market for those on a budget.
We Recommend This If You:
Want a high-value product for a low cost
Want a mattress with different firmness options
Are less than 240 lbs. (heavier sleepers may love the Layla Hybrid, however)
Want a seamless delivery and set-up experience
Tend to sleep on your side at night
Can handle a heavy mattress (the Layla Hybrid Queen weighs 115lbs)
Layla Mattress FAQ
Where is Layla made?
All Layla products are made in The US.
Where to try Layla?
They offer a 120 night trial allowing you to return it for a full refund.
How to return?
Simply contact Layla within 120-days and request to return it. No shipping fees or return fees are charged. They do require you to sleep on the mattress for at least two weeks before making a decision.
How thick is the Layla mattress?
The memory foam model is 10"'. The Hybrid model is 13".
Puffy is an American company specializing in all things crafted and quality for the bedroom. Their leading mattress, called simply "The Puffy Mattress," was among the best-selling and highest-reviewed mattresses in 2020. Satisfied customers point to a sturdy foam-based construction that offers cooling and supportive sleep at a very reasonable price point.
Puffy also offers the Puffy Lux, a more premium mattress that adds extra layers of cushy comfort and cooling, with a bit higher price tag. The Puffy Lux includes a proprietary high-density transition comfort layer in order to increase enhanced spinal alignment while maintaining a softer, comfier, plush feeling. Puffy's third mattress, called the Puffy Royal Mattress, is a high-end version of the other two models that clocks in at almost twice the price of the Lux.
Puffy sells bedding, dog beds, foundations for mattresses, and more, making them a comprehensive one-stop-shop for your sleeping needs. We love that they offer a 101-night free trial, and provide a lifetime guarantee on all of their products.
Highlights
101-Night Trial
Free Shipping and Returns
Made in USA with Lifetime Warranty
Puffy Highlights
101-night sleep trial
Puffy Donation Program
Relatively low price point
Accommodates different sleep styles
Free shipping
Lifetime warranty
Mattress Breakdown
Odor:
Good
With most foam mattresses that are delivered in a box, you'll surely notice a somewhat prominent off-gassing odor that can linger in the bedroom when you first open the box. You'll likely notice this with the Puffy models, but while it may be pretty strong immediately after opening the box and removing the mattress, we don't think this will be a long term issue; after two days, any odor should be gone.
Durability:
Average
The lightweight foam layers that are used in both the Puffy and The Puffy Lux are CertiPUR-US® Certified, but it's difficult to estimate the long-term durability of the mattress. Since Puffy has only been around since 2017, we can't know how it will hold up over time. Typically, lighter foam layers like these are more susceptible to wear and tear than heavier models. This may not be a problem for lighter sleepers. However, it is important to note that Puffy offers a lifetime guarantee on all of their mattresses, which shows you that the company is confident in their durability.
Temperature:
Excellent
This is the category that the Puffy and Puffy Lux excel in. Both mattresses provide an exceptionally cool night of sleep, due to the inclusion of advanced foam technology not found in other mattresses. Both models have Climate-Adaptive Regulation, meaning the beds are breathable and adaptable to different temperatures and environments. Even hot sleepers are unlikely to overheat with one of these mattresses.
Sex:
Average
Neither the Puffy nor the Lux impressed us when it came to supporting sex. These beds are soft, cushy, and lovely for sinking into—not so much for springing and supporting motion. Though every couple is different, these two beds lack the pushback and bounce typically associated with innerspring mattresses that tend to be better for sex.
Conforming:
Excellent
Like many all-foam mattresses, the Puffy and the Puffy Lux offer terrific conforming properties to sleepers. Both models are layered with foam specially designed to cradle, support, and align all at the same time. Laying on these beds really does feel like you are on a cloud. This is especially true of the Lux model, which includes an extra layer of Plush Dual Cloud foam.
Edge Support:
Average
For some of the same reasons these beds are not ideal for sex and are good at conforming to your body; they do not offer fantastic edge support. Foam beds tend to have a lot of 'give' to them, and we found the Puffy beds have too much 'give' to be considered truly supportive along the edges. Foam is great for sinking into, but not exactly for holding things up.
Noise:
Excellent
Not too much to say in this category. Foam beds a generally very quiet, and Puffy's are no exception. These all-foam mattresses, both the Lux and the Puffy, are completely silent.
Motion Isolation:
Great
Both the Puffy and the Lux model have relatively good motion isolation. We found that the Puffy was so plush that if two sleepers got too close, they might sag into each other—this isn't technically a motion isolation issue, but it does raise the same logistical problems for light sleepers. Unless, of course, you like sleeping close and snug with your partner. The Lux model offers slightly better isolation, and we recommend the upgrade to anyone for whom motion disturbances might be an issue.
Pros
Options to fit all different sleep types
Both lower-cost and luxury models
Convenience of bed-in-a-box
Cooling technology allows for comfortable temperatures
Cons
Not recommended for heavier sleepers (240 lbs+)

Layers of lightweight foam may degrade somewhat more quickly than other materials

How does the Puffy mattress feel?
Puffy's mattresses don't offer a ton in the way of a customizable feel. Both the Puffy and the Lux come with only one option for softness, while some other companies give the flexibility of multiple choices. However, the set design of Puffy's products helps keep the price down quite a bit—this is a huge bonus in our book. It's a fantastic mattress for its price!
The Puffy comes in at the 6-8 range of firmness on a scale of 1-10. We consider it to be medium-firm, with a very soft top layer of foam.
The Puffy Lux, which boasts an extra comfort layer of foam, clocks in a little lower on the scale at 5-7 out of ten. This model is certainly more plush than the Puffy, and might be better for people who prefer the feeling of being swaddled.
As another note, the Puffy Royal, the most deluxe model the company offers, comes in at around a 5 on the firmness scale, making it the plushest of their product line.
Puffy Construction
Cooling Cloud™ foam
Climate Comfort™ foam
Firm Core Support foam
Puffy Lux Construction
Cooling Cloud™ foam
Plush Dual Cloud layer
Climate Comfort™ foam
Firm Core Support foam
Puffy Service and Delivery
Puffy ships its mattresses in boxes across the United States for free, excluding Hawaii and Alaska. You can expect to see your mattress in about 2-5 business days after you place your order.
Puffy goes out of their way to ensure customers that they believe in the quality of their products by offering a generous 101-night trial, as well as lifetime guarantees for mattresses. This should appeal to customers who want to make sure they are making the right long-term decisions about investing in a mattress.
We also love that Puffy donates mattresses to children in need every time 10 people share pictures of their own Puffy mattress on social media. It may be a marketing ploy, but anytime companies are committed to giving back to their community, we like to acknowledge that effort!
Is This Mattress for Me?
These mattresses are fantastic for people on a budget who want to stay cool at night while feeling like they are sleeping on a cloud. The low price point of the Puffy makes it an extremely good option for sleepers looking for their first nice mattress—especially for those who are just starting to pay attention to what their sleeping style is (the Puffy is great for all types of sleepers.)
The Puffy Lux is also a great option for folks who want a high-quality foam mattress delivered right to their door. The Lux offers a more plush, sinking-feel that we whole-heartedly recommend to lighter sleepers. Heavier sleepers may want to look elsewhere, as the lightweight foam used in The Lux may not be ideal for supporting optimum sleep. The Lux would be fantastic for a lighter sleeper who prizes staying cool and swaddled by their mattress at night.
Since both mattresses (and the deluxe Puffy Royal, too) come with generous 101-night trials and lifetime warranties, we think this is a great option for first-time buyers who want to sleep cooly and well-supported without risking throwing money down the drain.
We Recommend This If You:
Are looking for a medium-firmness foam mattress
Are shopping on a budget
Are less than 240 lbs.
Want a seamless delivery and set-up experience
Want to try a mattress for a while before you decide to commit to it
Tend to sleep hot and want a cooling experience
Saatva is an American company that creates state of the art, luxury innerspring, memory foam, and latex mattresses. Their latest model is the Saatva Latex Hybrid which is an all-natural, organic mattress that combines the best of a coil-on-coil innerspring mattress with the pressure-free support of latex, for a cool, comfortable sleep. It's crested with a luxury Euro pillow topper to finish. Its materials are all handcrafted and sourced in the United States with a focus on durability, sustainability, and quality—everything in this mattress consists of pure, non-toxic materials.
It is available in any mattress size, at 13 inches in height, and has a Medium comfort level to suit just about any sleeping style.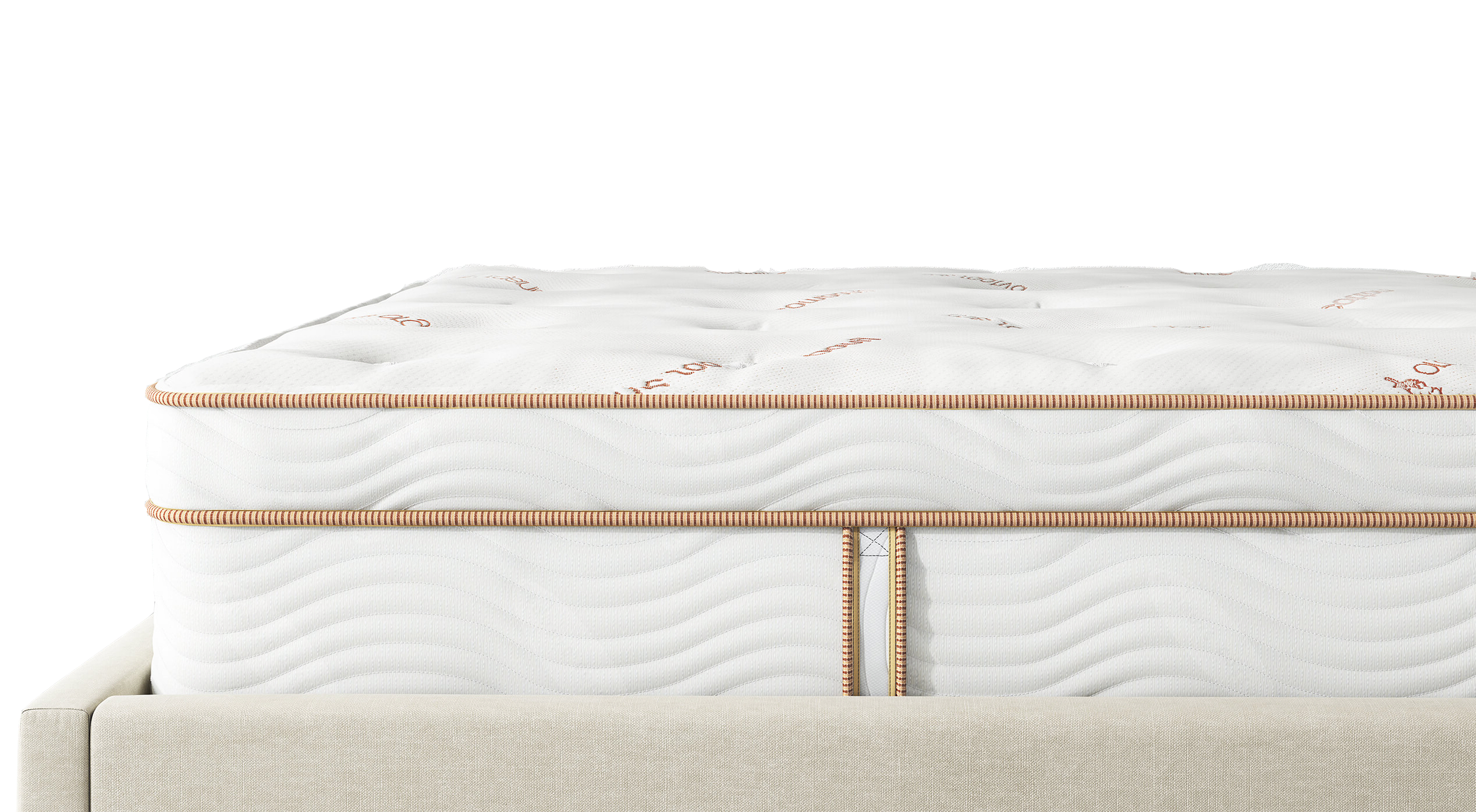 Latex Hybrid Highlights
100% Natural and Organic
Free White Glove Delivery & Setup
No Harmful Chemicals
Saatva Highlights
Handcrafted in the US
Naturally hypoallergenic
180-day home trial. Full refund available
15-year warranty
Free white glove delivery
Botanical antimicrobial treatment
Mattress Breakdown
Odor:
Great
Like most new mattresses, this one will have a "new mattress" smell. Fortunately for you, the materials in the Saatva Latex Hybrid are all pure, natural, non-toxic, organic, hypoallergenic, chemical-free—all that good stuff—so the odor it omits when brand new is not at all unpleasant and will totally dissipate within a few hours to days. If you are very sensitive to smells, we recommend putting some freshly laundered sheets on there, and you'll be ready to enjoy it from night one.
Durability:
Excellent
Most well-constructed innerspring mattresses typically last between six and seven years. The Saatva Latex Hybrid also has, you guessed it, latex. The Talalay latex Saatva uses is extremely durable. Because this is made with such high-quality materials, you can expect it to last even longer than its innerspring competitors. Everything is handcrafted in the USA, and the company offers a 15-year warranty on their product—which shows you the confidence they have that this is built to last.
Temperature:
Excellent
The Saatva Latex hybrid breathes exceptionally well. For people who sleep hot, latex is a material we recommend you look into. Add that to the sets of coils in this mattress, which allow for the flow of air to circulate through the mattress. The pillow top provides added comfort without restricting that essential airflow that some toppers can do. This is truly one of the coolest mattresses we've come across. We thought the Saatva Latex Hybrid was as cool as they come, but it will be hard for you to find a hybrid mattress that has better temperature regulation.
Sex:
Great
Everyone's needs and preferences are different when it comes to this category of mattress-related activities. But the Saatva Latex Hybrid's performance in this area is ideal for most couples. A memory foam mattress can restrict your movements. However, the Latex Hybrid has both responsive latex and springs, for optimal bounce without compromising comfort and support and provides pressure point relief.
Conforming:
Good
With the Saatva Latex Hybrid, you won't get the same level of body-conforming and cradling as you would with a less-firm memory foam mattress. Latex and innerspring tend to offer more responsiveness than conform to your body heavily. That said, the Latex Hybrid does conform very well to your body AND provide excellent support and pressure-relief that you might not get with a mattress that is too conforming. In summary, Goldilocks might say this mattress is "just right" when it comes to balancing support with conforming.
Edge Support:
Good
Oftentimes edge support on latex beds can be somewhat lacking. Here the Latex Hybrid's innerspring structure offers the edge support you want, and the Eco-loft pad provides a stable base for the latex layers. You'll really float on this mattress and have generous support across the entire surface. You won't find yourself rolling away from or off the edges easily on this mattress.
Noise:
Good
Since innerspring mattresses have coils of metal embedded within them, they are more likely to be noisy than pure foam mattresses. But latex is a very quiet material and combined with the pillow top in the Latex Hybrid, the innersprings are all but completely silenced. It's just as quiet a mattress as any other innerspring on the market. Many people choose to give up older innerspring mattresses when they become noisy over time. With the Saatva Latex Hybrid, we're confident you will not have this problem.
Motion Isolation:
Average
The technology of innerspring mattresses is never as efficient at eliminating motion transfer as foam mattresses are. But Saatva's individually-pocketed coils make it a very high-performing mattress when it comes to motion isolation. The latex layers are very responsive and bouncy, but any motion on the surface of the Latex Hybrid is surprisingly localized. For sleepers who share a bed, you'll get the support of an innerspring and latex bed, with nearly the motion isolation capabilities of memory foam.
Pros
Excellent support and responsiveness, yet conforming, thanks to the latex-innerspring combination.
Hypoallergenic and antimicrobial. This mattress meets the highest standards of organic certification.
Made from 100% Talalay latex which is highly durable and provides exceptional pressure relief.
Excellent springiness for couples to enjoy ;).
Free 180-night sleep trial, flexible warranty, and strong customer service that includes complimentary white glove delivery and removal of your old mattress.
Cons
This is a luxury mattress that does not come in a box, you'll need help moving it. Luckily, Saavta takes care of it for you (see white glove delivery).

As a hybrid innerspring bed (with latex), motion isolation is not quite as good as on foam mattresses.

How does the Saatva mattress feel?
The innerspring design of the Saatva Latex Hybrid combined with its responsive latex means this mattress will feel more like you are on top of it, rather than cradled in it as you might feel with a purely memory foam mattress. You'll feel extremely supported and get all the pressure and pain relief you could ever want.
This mattress' medium comfort level suits the widest range of sleepers and is designed to accommodate all sleeping positions—with enough support for the back and stomach sleepers and enough contouring for side sleepers.
Mattress Construction
Organic cotton cover + Euro pillow top
Organic 100% New Zealand Wool
Talalay Latex for back support and pressure relief
Individually wrapped steel coils
Organic Eco Loft Pad provides a stable base
Saatva Service and Delivery
Saatva prides itself on its customer service, and for a good reason. It is an absolute pleasure to shop with this company.
Like all of Saatva's mattresses, the Latex Hybrid is not a bed in a box. It is a luxury mattress that is not so easily delivered. Thankfully, you don't miss out on any convenience, because Saatva takes care of everything for you. You'll get free white glove delivery and removal of your old mattress free of charge, making the ease of set up on par with any boxed mattress.
Friendly representatives are available via phone and on their website, 24 hours a day, should you have questions or problems. They offer a 180-night trial period for all of their products and a 15-year warranty. This company stands behind their work and goes out of their way to make sure you feel comfortable and satisfied when you do business with them. Reports from customers regarding Saatva's customer service are almost universally positive, and we expect your experience will be positive as well.
Mattress Specifications
SIZE
DIMENSIONS
PRICES
Twin
38'' W x 75'' L
$1,099
Twin XL
38'' W x 80'' L
$1,249
Full
54'' W x 75'' L
$1,599
Queen
60'' W x 80'' L
$1,799
King
76'' W x 80'' L
$2,199
Cali King
72'' W x 84'' L
$2,199
Split King
76'' W x 80'' L
$2,499
Is This Mattress for Me?
The Saatva Latex Hybrid is perfect for people who want the supportive responsiveness of latex and innerspring mattresses. You'll get the benefits of a traditional innerspring mattress as well as the cushioning, pain-relieving, and cooling properties of a latex mattress. The impressive technology integrated into the hybrid design results in a bed that is exceptionally supportive, yet conforming and entirely natural and organic.
The innerspring-coil design and the naturally cool properties of latex also mean the Hybrid is one of the coolest beds on the market. For people that sleep hot, the Latex Hybrid provides amazing airflow through the mattress, keeping you comfortable through the night.
Finally, the eco-friendly materials that go into the Latex Hybrid make it even easier for you to sleep soundly knowing that everything that went into your mattress is non-toxic, chemical-free, and all-natural. Not to mention these mattresses are built to last, and for any reason, if they don't, the company's 15-year warranty will come in handy.
We Recommend This If You:
Sleep hot and want bed that keeps you cool
Sleep in any position (back, side, stomach)
Prefer the support of innerspring technology
Want a mattress that will last many years
Like some bounce to your bed
Care about the environmental impact of your mattress
Are sensitive to chemical odors
Saatva Mattress FAQ
Where can I purchase a Saatva Latex Hybrid Mattress?
Saatva Mattresses can only be purchased from their website.
Are they made in the USA?
All Saatva mattresses are made in America
Where can I try?
Saatva offers a 180-day, in-home, trial.
Do they remove my old mattress?
Yes! During delivery, you have the choice to have them remove your old mattress. Be sure to choose "Mattress Removal" option during checkout.
Do I need a box spring?
Their mattresses require sturdy, even, support. A box spring, bed slats; wooden or metal will suffice. They also offer a Lineal Adjustable Base.
What does Saatva mean?
The name is inspired from the concept of "sattva" and how the philosphy represents purity, wholesomeness, and virtue.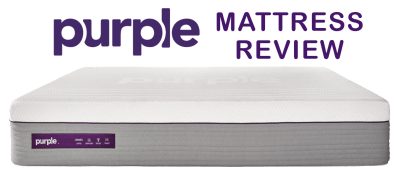 Purple is one of the most popular mattress brands in America right now. They are well known for their clever, and incessant ad campaigns that can be found plastered across all corners of the internet. However, the products they offer are truly superb. Their proprietary Purple Grid™ technology allows them to create mattresses that are supremely comfortable and supportive, at a price point that is affordable to the average person.
Purple offers three different mattress options these days: the Purple mattress, the Purple Hybrid and the Purple Hybrid Premier. The Purple is the first mattress the company created, combining polyfoam with their Purple Grid™ in the most affordable model. The Purple Hybrid and Purple Hybrid Premier add an innerspring layer into the mix for slightly more comfort, and a slightly higher price tag.
We like both the Purple and the Purple Hybrid for different reasons. This review will focus on both to help you get a good sense of which mattress might be right for you!
Purple Highlights
100-Night Trial
Free Shipping & Returns
0% APR Financing
10-Year Warranty
Purple Highlights
Free shipping and returns
100-night free trial
10-year warranty
Great temperature control
Multiple firmness and thicknesses options (Hybrid Premier)
Non-Toxic and Hypoallergenic
Mattress Breakdown
Odor:
Good
All mattresses that come in a box will naturally have to be compressed to fit. As a result, the memory foam or polyfoam elements may off-gas slightly when the bed is unboxed. The Purple Original does have an odor when it is first unraveled, but we found that it dissipated over the course of a few hours when we opened the windows and let it breathe a bit.
Durability:
Good
Purple promises that its unique polymer foam should last sleepers for decades. They also offer a ten-year warranty against any problems with manufacture. We can't say for certain how well these beds really hold up, though, as the company has only been around since 2016, but the quality of materials suggest it's built to last.
Temperature:
Great
The Purple is made with several layers of breathable foam, as well as its patented Purple Grid™ gel technology. All of these layers of construction are relatively porous, leading to a foam mattress that maintains better airflow and sleeps cooler than many of its competitors.
Sex:
Average
Though every couple will have their own preferences when it comes to the right bed for sex, the Purple is a rather soft option that does not provide a super steady surface. Perhaps this is ideal for some couples, but we think that a more responsive mattress is better suited for certain activities.
Conforming:
Great
Purple's biggest claim to fame is its pressure-relieving, Purple Grid™ technology, and it is on full display in this mattress. The Purple does a great job of cushioning the body, relieving pressure on joints, and aligning the spine through gentle cradling. We think this makes the Purple an especially good choice for sleepers who tend to stay on their side most of the night, though it works fine for all sleepers.
Edge Support:
Average
Like most all-foam mattresses, the Purple does not exactly shine when it comes to perimeter edge support. There is no reinforcing material added to increase the firmness of the edge of the mattress, and as a result, it does have more give than a traditional innerspring bed. However, the Purple Hybrid might be a good choice for someone who likes the feel of a Purple, but wants a bit more edge support.
Noise:
Excellent
The Purple Original is completely silent when you move around on it. Do we have to say more?
Motion Isolation:
Great
The Purple Grid™ layer of the bed is hard at work when it comes to isolating motion. You can tell there is something special about this mattress because of how little transfer of motion there is across the surface. Even getting in and out of bed should cause little to no disturbance for a partner on the other side.
Pros
Purple offers three different styles of mattress to meet your budget and sleeping needs
The Purple is among the most affordable mattresses on the market
All Purple beds come with patented Purple Grid™ technology to relieve pressure on sleepers' joints
Purple beds sleep very cool, especially for foam-based beds
Purple offers a 100-night sleep trial and a 10-year warranty
Cons
Since Purple is a young company, we cannot accurately report the long-term durability of their products

The edge support on the Purple is not as good as is it on the Hybrid model

How does the Purple mattress feel?
Despite having extra layers of construction in the Hybrid model, we found the Original and Hybrid to both weigh in at around a 6.5 out of 10 when it comes to firmness. These are beds that offer serious support, without feeling super hard to the touch. The Purple Grid™ technology is a 2'' layer in both of these beds, and because of it you can rest assured that you will be fully supported throughout your sleep.
Both models have extra soft top layers that simply feel great to the touch, even though sheets. However, if you are looking for a bed that has even more softness and give to it, we recommend checking out Purple's Hybrid Premier model. Though it is a bit more expensive, you can opt for a thicker layer of Purple Grid™ technology that makes the mattress feel all the more cushioning. If you have serious problems with pain, or simply want a bed that cradles your body, this could be the perfect option for you.
Purple Mattress Construction
Responsive knit blend top cover made of 29% Viscose, 67% Polyester, 4% Lycra
2" Purple Grid™ comfort layer
Middle layer: 3.5" high-density polyfoam
Base layer: 4" high-density polyfoam
Hybrid Mattress Construction
Comfort stretch cover of knit fabric: 29% Viscose, 67% Polyester, 4% Lycra
2" Purple Grid™ comfort layer
Middle layer: 7.5" responsive individual support coils
Two transitional foam layers around the coil system
Purple Service and Delivery
Purple has fantastic customer support that starts the moment you purchase your mattress. The Purple comes compressed in a box and is shipped for free anywhere in the US and Canada.
For the Hybrid and Luxury Hybrid models, Purple offers free white-glove delivery that includes the removal of your old mattress at no additional cost.
All mattresses come with a 100-night risk-free trial period, as well as a 10-year limited warranty.
Is This Mattress for Me?
Purple has a mattress that's right for everyone.
We love the Purple for its affordability, easy setup, fantastic support, and breathability. This is a great mattress for first-time buyers, or anyone who wants to get the best bang for their buck. We feel confident that this model is one of the better bed-in-a-box models. If you are a sleeper who wants a bit more support from a foam mattress, this is a great option for you!
The Purple Hybrid is a strong option for those looking to spend a bit more money, but expect a lot in return. The Purple Grid™ layer, in combination with a layer of individually-wrapped coils, takes the same weightless feeling you get from the Purple mattress and kicks it up a notch. This mattress also offers superior motion isolation, edge support, and a bit more cushioning to help relieve pressure on the joints and spine. This is a fantastic option for couples who consider themselves light sleepers, or for sleepers in any position that want a mattress to relieve pain.
If you are interested in a seriously luxurious mattress that can be customized to fit your exact needs, check out the Purple Hybrid Premier.
We Recommend This If You:
Sleep in any position (back, side, stomach)
Sleep hot and want a cooling bed
Want to shop for a mattress on a budget
Have a partner that is easily disturbed by too much motion
Want seamless delivery and set up of your bed
Suffer from pain and want a mattress that relieves pressure on your joints and spine